Are you looking for a cool, refreshing, taste-tantalizing alcohol beverage? Well, you better keep looking because the Kid Dyn-O-Mite! definitely does not meet this description. The official drink of Angsthead, it was created 13 years ago with one goal in mind... to enhance the party experience. Never smooth, never refreshing, the Kid Dyn-O-Mite! packs the powerful one-two punch of Jolt Cola and cheap rum. Be very drunk and very alert!
Feel like doing some serious partying? Then follow the recipe closely...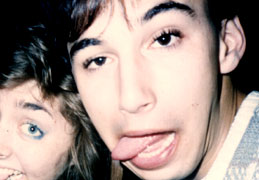 the sad results of overindulgence.
A QUICK DISCLAIMER: Angsthead.com is in no way liable for the embarassing and grossly inappropriate behavior frequently associated with a night of drinking Kid Dyn-O-Mites. That being said, go to it! And if you have any tales of Dyno-induced obnoxiousness, please click here and tell us about it!